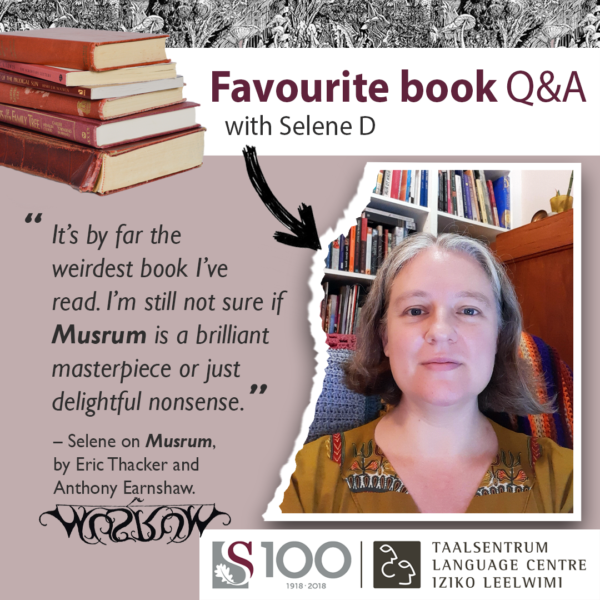 Get to know us through the books we read! This month we chat to Selene Delport, coordinator of writing skills workshops for postgrad students at the  Writing Lab.
Selene joined the Writing Lab as a consultant in 2006. In 2009, she started conducting its writing skills workshops for postgraduate students. "My work at the Writing Lab has afforded me the privilege of travelling to various countries – among others Kenya, Uganda, Tanzania, Ghana, Eswatini and Lesotho. Each country I've visited holds a piece of my heart. The Writing Lab, as a liminal and transformative space, has taught me so much," she says of her workplace. "In particular, I've learnt how to help students navigate sometimes very restrictive and silencing institutional structures, without becoming complicit in those structures myself."
What is the title of your favourite book, or a book that had a great impact on you?
That's a terrible thing to ask a reader. 😅
I've always loved reading. Some of my favourite children's books are Matyn die Stermannetjie (Lochner de Kock), Huppelkind (WO Kühne), and Grobbelaartjie van Velskoendorp (Oscar Prozesky). I still have most of my children's books and they look a bit worse for wear from being lovingly read and reread over decades.
As an adult, I've kept my love for children's stories. I still regularly reread Alice in Wonderland (Lewis Carroll) and The Wind in the Willows (Kenneth Grahame). And, of course, I love fantasy (JRR Tolkien, Terry Pratchett, Neil Gaiman) and young adult fiction. I think fantasy and young adult (YA) fiction are often underappreciated, especially YA fiction written by African writers. Two of my favourite YA fiction/fantasy authors are Tochi Onyebuchi and Lily Herne.
Onyebuchi is a Nigerian author who wrote Beasts Made of Night. It tells the story of Taj, who is an 'aki' – someone from the lower classes who is hired to devour the sins of the upper class so that they can live guilt-free. Beasts Made of Night is one of those books where I had to take a bit of time before being able to start reading the next book. Onyebuchi's characterisation of Taj makes it impossible for readers not to connect with Taj on a deep emotional level. I'm eagerly awaiting the sequel, Crown of Thunder.
Lily Herne is the pen name of a mother/daughter writing duo. They wrote the Deadlands saga set in a post-apocalyptic, zombie-infested South Africa. I've finished the first three books and am desperately looking for the last book, Ash Remains. (If someone knows where I can buy or borrow a copy, please let me know!)
Why did this book make such an impression on you?
All these books, and many others, have left a lasting impression on me. The reasons are varied – some of them give readers glimpses into the lives of people or characters who usually would not get platforms in canonical works or public spaces; some of them are just enjoyably weird.
One book that made quite an impression on me is Musrum. It's by far the weirdest book I've read. It is a British publication, written by Erick Thacker, a Methodist minister, and Anthony Earnshaw, an artist, art teacher and also an atheist. The book came about by them exchanging letters. The book also contains a lot drawings – some with religious themes, others containing symmetrical patterns and some even in the form of maps. The lettering and meaning of Musrum keep changing. (The picture on the opening page gives you an idea of how wonderfully strange the book is.) I'm still not sure if Musrum is a brilliant masterpiece or just delightful nonsense.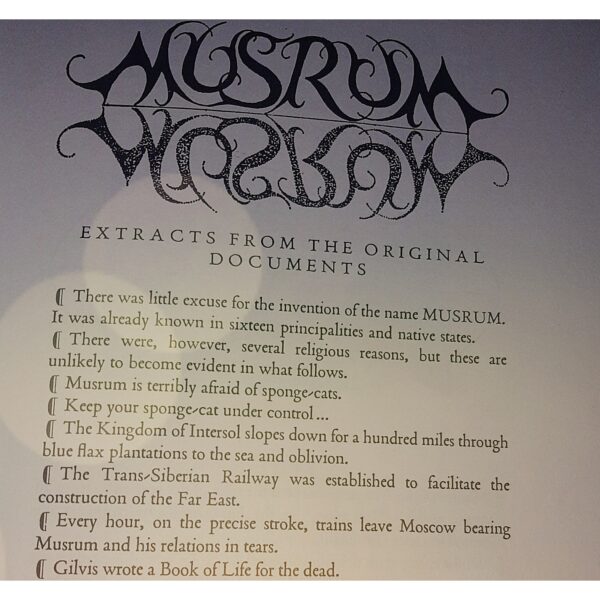 Opening page, Musrum. 
Who is (are) your favourite author(s)? Also tell us why?
Again, there are several! One of my favourite authors is Yvonne Vera. Her poetic prose voices unspeakable traumas: violent liberation wars and their aftermath in Nehanda and The Stone Virgins; the horrifying loss of a child in Without a Name; and brutal violence against women in Under the Tongue and Butterfly Burning. But her stories also foreground the resilience that people can have.
What are you reading at the moment?
I'm reading something light at the moment – Fiona Snyckers' The Cat That Had a Clue. It's the first book in a series called The Cat's Paw Cozy Mysteries. The stories are Agatha Christie-like whodunnits with lots of cats in it.
Do you have a preference: reading physical books with paper pages or on a Kindle or other electronic platform? Why do you say so?
I enjoy both. There's nothing better than the feel and smell of a physical book, but it's so much more comfortable reading a Kindle book in bed.
Who is your favourite literary character?
There are many: Gandalf from Tolkien's Lord of the Rings, Alice from Carroll's Alice in Wonderland, Grace from Atwood's Alias Grace, and Tiffany Aching from Pratchett's Discworld novels. I think I like them so much because their identities are never really fixed; they're constantly evolving and changing – sometimes heroically, sometimes in unsettling ways.
Have you perhaps learnt a life lesson from a book or character that you would like to share with us (if this hasn't come up in one of your answers already)?
The best advice ever comes from Douglas Adams' The Hitchhiker's Guide to the Galaxy: "A towel … has great practical value".
But jokes aside, a life-changing book is Sheldon B. Kopp's If You Meet the Buddha on the Road, Kill Him! The Pilgrimage of Psychotherapy Patients. What resonated most with me is Kopp's description of situational ethics:
Rules will come to serve as tentative guidelines. Each act will have to be judged as a personal experience, in terms of its existential meaning, rather than by checking it out against a rule carved on a stone tablet long ago and far away."
What book/books would you recommend to your students, friends or anyone else?
My recommendation is to read any books you want, but to read widely. Chimamanda Ngozi Adichie warns us against the "danger of the single story". Reading widely saves us from the "incomplete" stories about other people and other places, it helps us recognise "our equal humanity" and "regain some kind of paradise".