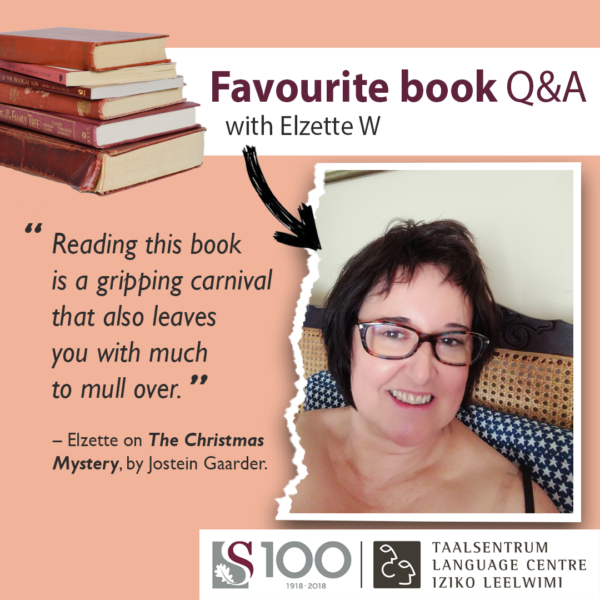 Get to know us through the books we read! This month we chat to Elzette Wickens, a language practitioner at the Language Service of the Language Centre. "I edit and translate Afrikaans and English texts for University and external clients. Almost every day, I learn something new, because we receive texts that cover a wide range of subject matter."
Elzette also handles language queries from clients as well as other quarters. "These often turn into adventures, for people contact us mostly about puzzlers to which they couldn't find ready solutions elsewhere. I am at my happiest when I feel that I've delivered a polished, communicative text or uncoiled a linguistic entanglement."
What is the title of your favourite book, or a book that left a deep impression on you, or a book that you found unforgettable for some reason or another?
The Christmas Mystery by Jostein Gaarder (author of Sophie's World).
Why did this book impress you so much?
I had never read another book like that. It's a story in which the suspense builds up almost imperceptibly, with parallel story lines that are moving in opposite directions. On the one hand this is a fantasy that nevertheless progresses along historical time posts; on the other hand it tells a story set in the "real world" populated by "regular people". But could it be that the former portrays true reality, which we glimpse one vignette at a time? Reading this book is a gripping carnival that also leaves you with much to mull over. One of the few books that I've reread more than once.
Who is/are your favourite author(s)? Also tell us why?
Somerset Maugham, who can capture emotion so powerfully that it seeps into your own mind. PG Wodehouse, for his droll portrayal of a specific slice of society without turning nasty. Ken Follett, for his lovely series set in Mediaeval England and France, brimming with castles, cloisters and swords. Bill Bryson, for packing his prose with information and left-field humour, but above all for Mother Tongue, which is among my all-time favourites. Hergé for the Tintin books and Alba Bouwer's Rivierplaas series. The winners who would accompany me to the proverbial deserted island are Dr Seuss and Astrid Lindgren. The day that I've become bored with them and have outgrown their books, you may switch off the lights.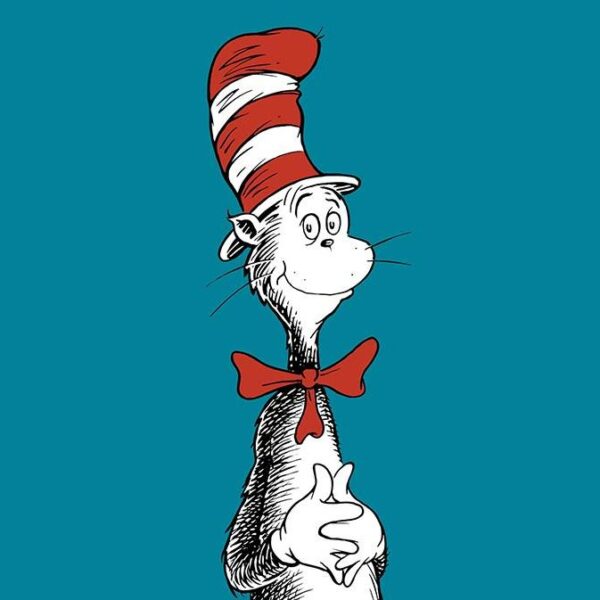 Dr Seuss' Cat in the Hat character (copyright: Random House)
What are you reading at the moment?
I never read only one book at a time. At the moment, I'm dipping in and out of The Missing Link: How handwriting made us who we are, The Queen's Gambit, My Life with BoB: Flawed heroine keeps book of books, plot ensues, and Common Places: Mythologies of everyday life in Russia. Plus a few others, here and there.
Do you have a preference: reading physical books with paper pages or on a Kindle or other electronic platform? Why do you say so?
I am a surprised but committed Kindle fan. I read only news articles on other devices, and printed books only if photos form an important element of the content. Why would you want to hold a heavy object, risk losing your place, not want to look up an interesting word immediately, not want to highlight striking passages with no hassle, not enjoy a built-in reading light … and not like to have all the books that you are reading at the time right there?
Travel light and save a tree!"
What book have you read more than once? Share with us why.
Jane Austin's works, especially Pride and Prejudice – must be eight times by now. Tickles me pink without fail. That opening line …
Who is your favourite literary character?
Captain Haddock
Have you perhaps learnt a life lesson from a book or character that you would like to share with us (if this hasn't come up in one of your answers already)?
Nobody holds the candle to CS Lewis. But I believe this is not the right forum for sharing it. 
What book(s) would you recommend to your friends, students and anyone else?
The list is never-ending, because I read mostly about topics that seem interesting, rather than the works of specific authors. A few:
Worldly Goods: A new history of the Renaissance (Lisa Jardine)
C'est La Folie (Michael Wright; the content is in English, only the title is French)
Travels With My Briefcase (Peter Biddlecombe)
Sixty Million Frenchmen Can't Be Wrong: Why we love France but not the French (Jean Nadeau & Julie Barlow)
Rationality: What it is, why it seems scarce, why it matters (Steven Pinker)
Shantaram (Gregory David Roberts)
Sy Kom met die Sekelmaan (Hettie Smit)
Winnie the Witch (Korky Paul & Valerie Thomas)
Zanzibar Street (Niki Daly)