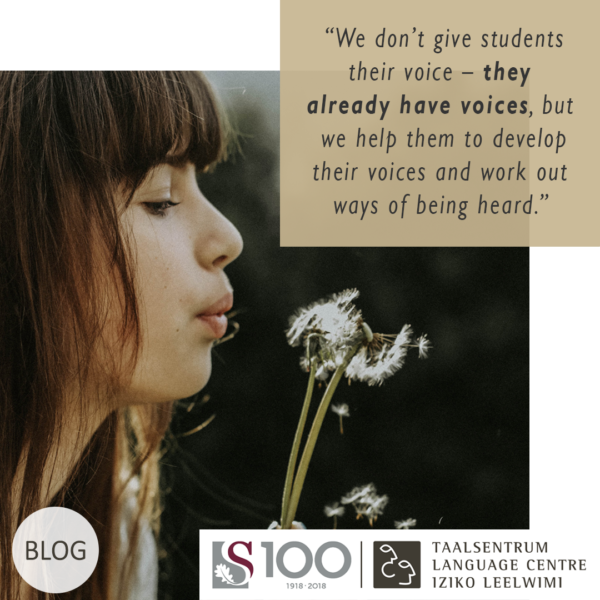 On 4 October, the head of the SU Writing Lab, Rose Richards, attended an online colloquium about decolonisation in South African writing centres. She shares her thoughts about the colloquium with us.
As a writing centre practitioner, I am very glad to see that other writing centre practitioners across the country share my views about the potential of writing centres to change the educational landscape.
The colloquium I attended was hosted by Durban University of Technology, Cape Peninsula University of Technology and Mangosuthu University of Technology. It was the first writing centre event hosted by universities of technology and I was excited to see what the presenters would discuss. The topic promised to elicit robust discussion and I was not disappointed.
Decolonisation is a provocative topic for many and because of this, people don't explore what it really means. It's not an 'either … or' proposition where European values and traditions are discarded in favour of African ones. It is a 'both … and' proposition, rooted in social justice and democratisation. If you want to see good breakdowns of the meaning and potentials of decolonisation, consider reading this paper by Prof Gift Mheta, one of the speakers, and this one by Savo Heleta (see full details at the end of this piece).
Language, flattened hierarchies and ubuntu were the themes that infused all of the talks. Studying in a country that has multiple languages is one issue that many South African students face. Because of this, writing centre practitioners tend to use code-switching and even shuttle between languages in consultation with students. This is one way of giving back some power to the students and creating space in which they can express themselves.
The peer tutoring approach and the writing centre ethos of being welcoming and nonjudgemental goes a long way to create a more democratic space in which students can rehearse academic identities and make mistakes without censure. We don't give students their voice – they already have voices, but we help them to develop their voices and work out ways of being heard.
These and other writing centre approaches are part of what in South Africa is known as ubuntu. Baken Lefa, a science education researcher, describes ubuntu as the soul force that "expresses compassion, reciprocity, dignity, harmony and humanity in the interests of building and maintaining a community with justice and mutual caring". For me, that force is strong in writing centres.
Prof Mheta (Durban University of Technology) spoke on the topic 'Towards decolonised writing centre spaces: The reflections-for-action of a DUT Writing Centre practitioner'. Prof Mheta heads the DUT writing centre. His research interests are broad, with a focus on corpus development and maintenance, computational lexicography and language technology applications for the development of African languages.
Ms Puleng Sefalane-Nkohla (Cape Peninsula University of Technology) addressed the topic of 'Being and becoming: Decolonising the writing centre space. How do we decolonise students' academic support at CPUT?' Ms Sefalane-Nkohla is acting head of department of the Student Learning Unit at CPUT's Fundani Centre for Higher Education and Development. She has worked in writing centres for 22 years and has a 20-year association with the SU Writing Lab. She specialises in academic literacies, and language and technology.
The final speaker, Mr Ntuthuko Mhlongo (Mangosuthu University of Technology), discussed 'Location and Power: Appraising the opportunities and challenges for writing centres as spaces for transformation and decolonisation in the South African university context'. Mr Mhlongo started his writing centre journey at DUT. He is working on his PhD, which is about the challenges rural youth face in South Africa. His research interest lies in developing youth for the changing global environment and his interest in writing centres is about one way of achieving that.