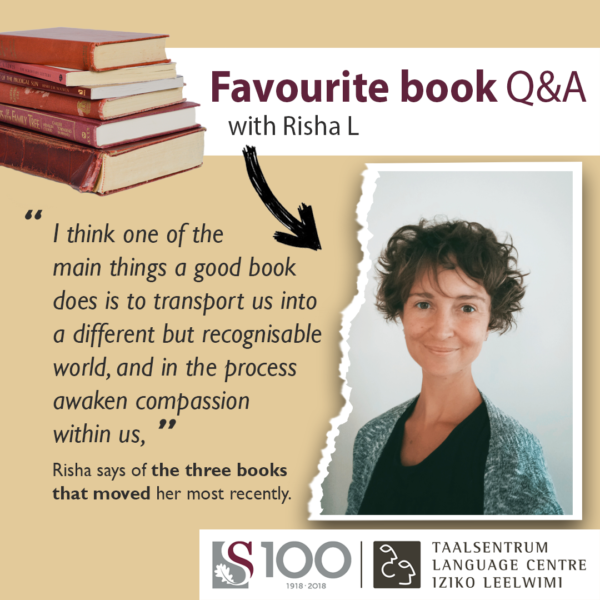 Get to know us through the books we read! Every first Friday of the month we're sharing an interview with one of the Language Centre's staff members on a favourite or memorable book.
This month we chat to Risha Lötter, an educational interpreter who also has her own podcast and blog. Risha says she reads indiscriminately, but has a special passion for stuffy British whodunits, and she daydreams of one day writing an Agatha Christie homage detective novel.
What is the title of your favourite book? (It could also be a book that had a great impact on you, or a book that is memorable for some reason.)
Picking a favourite feels impossible, but the three that have perhaps moved me the most in recent memory are Barbara Kingsolver's The Poisonwood Bible, Chimamanda Ngozi Adichie's Purple Hibiscus, and Neil Gaiman's The Ocean at the End of the Lane.
Why are these books memorable to you?
Interestingly, all three these books are about childhood, a time in our lives which is ripe for the retelling and laden with nostalgia. The young narrators in each book, and the mixture of innocence and wisdom with which they look at the world, really grabbed my imagination. I think one of the main things a good book does is to transport us into a different but recognisable world, and in the process awaken compassion within us. These books all did that in a poignant manner for me.
Who is your favourite author? Also tell us why?
Again, impossible to pick! But my go-to authors, especially when I'm having a hard day, are Agatha Christie and Terry Pratchett– early 20th century sleuth stories and fictional fantastical worlds are my favourite brands of escapism.
What are you reading at the moment?
Non-fiction: Martha Beck's The way of integrity, which so far is both funny and wise. Fiction: Once there were wolves, by Charlotte McConaghy, a bleak and beautiful psychological thriller set in Scotland. I've also recently finished reading Strange Fish by Milton Schorr, a magical realism retelling of the Little Mermaid myth set on the West Coast of South Africa. It was a joy to encounter such poignant sense of place and history in a novel, and to also recognise the landscape and references.
Do you have a preference: reading physical books with paper pages or on a Kindle or other electronic platform? Why do you say so? 
I'll read ebooks if I have to, but I much prefer reading physical books, especially since I fold page corners, underline, and in general love interacting with an actual book. Books, according to me, should look weathered and well-loved.
What book have you re-read? Also tell us why?
I am constantly rereading Daniel Ladinsky's translation of Hafiz's poems, titled The subject tonight is love. If I could give every person in the world a single book, that would be the book I choose.  
Who is your favourite literary character?
Granny Weatherwax from the Discworld novels. A witch, midwife, wise woman and surprisingly complex character – she's basically everything I want to be when I grow up.
Have you perhaps learnt a life lesson from a book or character that you would like to share with us? 
When I was ten I first read Philip Yancey's What's so amazing about grace?, then re-read it as a teenager, and it completely changed my life. Yancey maintains that grace is scandalous – a breaking away from the natural laws of cause and effect, the ultimate defiance against a world filled with suffering. I see grace everywhere now: in the daily interactions we have with each other, and especially in the way the Earth maintains and nurtures us in spite of our relentless plundering of her resources.
What other books would you recommend?
All the books I've mentioned so far! Also Sula, by Toni Morrison, Antjie Krog's entire oeuvre, and anything by Mary Oliver. As for non-fiction, I'd highly recommend Bessel van der Kolk's The body keeps the score, a tender and very well-researched tome on trauma, human resilience, and how we can heal ourselves.