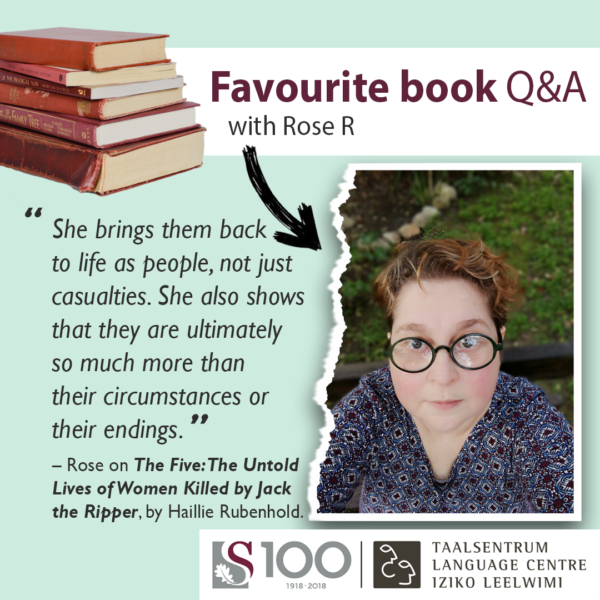 Get to know us through the books we read! This month we chat to Rose Richards, head of the Writing Lab and the Language Centre's Research portfolio. Rose says she like books that have something quirky or unique about them. Read on to hear what she says about books that have resonated with her recently.

What is the title of your favourite book, or a book that had a great impact on you?
This is a book that recently had an impact on me: The Five: The Untold Lives of Women Killed by Jack the Ripper by Hallie Rubenhold.
Why did this book make such an impression on you?
I am fascinated by real-life crime, especially in the patterns of deviant behaviour and victimology. I am also thrilled by new trends in investigation, and I like the way crime scene investigation often mirrors research methodology. I currently follow a number of podcasters, vloggers and documentary series on the topic. I find the current use of genetic genealogy to close cold cases peculiarly gratifying. There's nothing like seeing the stunned mugshot of an aged criminal arrested for a crime he thought he'd got away with decades ago. (Check out Michelle McNamara's I'll be Gone in the Dark for an insight into the Golden State Killer's case, cracked after four decades.)
Rubenhold's book is a meticulously researched study of five of the victims of one of the most well-known serial killers in the world. The women were poor and semiliterate, living on the fringes of society, until Rubenhold's book, known only for being victims. But Rubenhold has managed to find the paper trail of their lives, even with photographs sometimes, not of their brutalised remains, but of them at their weddings, with their children, with their parents. She brings them back to life as people, not just casualties. She does not dwell upon their deaths and scarcely mentions the monster who murdered them. In so doing she restores their dignity and shows them to be tough, resilient and resourceful despite their challenging circumstances. She also shows that their stories are not as straightforward as they are sometimes made out to be and that they are ultimately so much more than their circumstances or their endings.
Who is your favourite author? Also tell us why?
I don't have only one favourite author – it's so difficult to choose. I like books that have something quirky or unique about them. It can be something playful or profound. A favourite childhood author was Tove Jansson. I adored her Moomintroll series, which were made all the more enchanting by her illustrations of the world of Moomintroll and his family and friends. She transported me to a strange world of strange animals and plants that somehow felt like home. (I was surprised to find out years later that one of my best friends found them creepy and unsettling.) I always found them delightful. In the Moomintroll house, everyone is equal, even if you are very big or really tiny. The tiniest ones are usually the fiercest. No one is human, even if they look human and everyone hibernates in winter. Some of the household go on walkabouts, but they always return. Everyone has adventures and there is always summer to look forward to.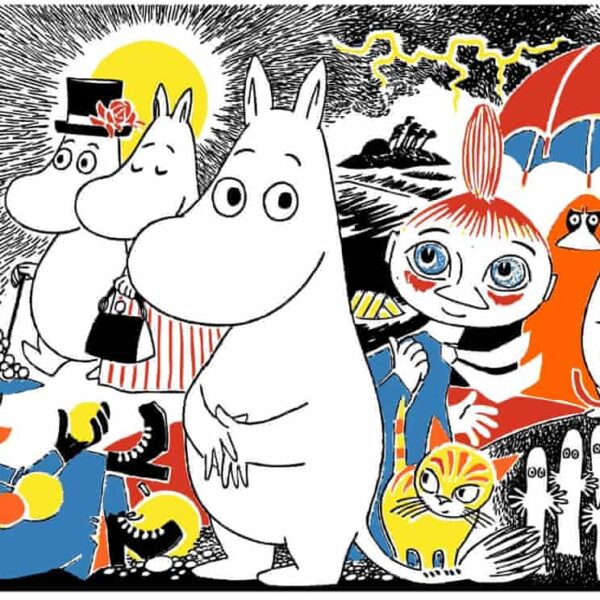 Tove Jansson's Moomins. Photograph: © Moomin Characters ™
What are you reading at the moment?
I'm starting The Ghost Map: A Street, a City, an Epidemic and the Hidden Power of Urban Networks by Steven Johnson. It's about the London cholera epidemic of 1854. The cholera epidemic was a landmark event, not only in its severity, but also in how people with various skill sets came together to find ways of stopping it.

Do you have a preference: reading physical books with paper pages or on a Kindle or other electronic platform? Why do you say so?
I read both. Kindle is really convenient because you can take many books with you wherever you go, but physical books are more tactile and more visually appealing, so I find it easier to remember their author and title details. I like to see my books on my shelves – it's like seeing old friends. Each holds a set of memories or marks a point in my life.

What book have you re-read? Also tell us why?
Sherlock Holmes stories
Lord of the Rings
Moomintroll books
Jonathan Kellerman novels
They speak to me emotionally and sometimes I just like the way the authors tell the story.

Who is your favourite literary character?
I don't have only one. Sherlock Holmes, Gandalf, Little My.

Have you perhaps learnt a life lesson from a book or character that you would like to share with us (if this hasn't come up in one of your answers already)?



Small people doing everyday things can help bring about great changes (Lord of the Rings).

Logic is important but undervalued (Sherlock Holmes).

Curiosity and passion can save you (Moomintroll)."
What book/books would you recommend to your students, friends or anyone else?
I used to work in a book shop. Books need to suit the people you recommend them to. I know that my tastes are a bit idiosyncratic and often macabre so I hesitate to recommend books to people. However, I recently read Susannah Clarke's Piranesi which was delightful, imaginative and a total surprise from beginning to end. She writes about magic infiltrating into our world and the effects of this.