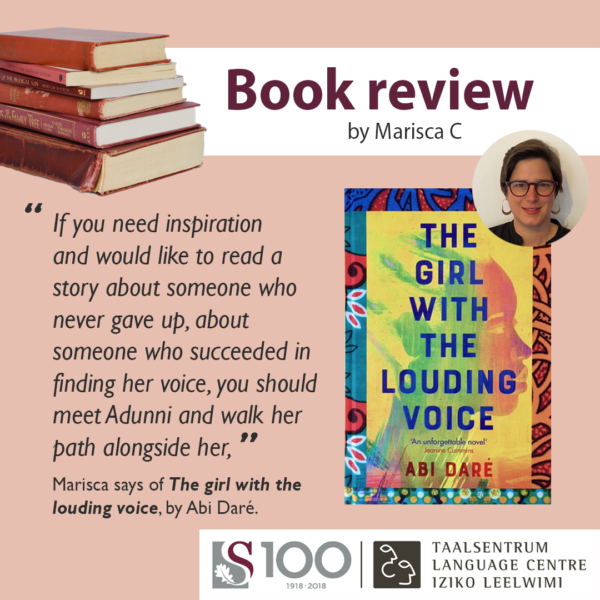 Get to know us through the books we read! We kick off the new year with a book review interview with Marisca Coetzee, an academic literacies lecturer who also coordinates the Language Centre's Reading Lab. Marisca is a lover of words, books and stories.
You mentioned you read a great book recently. Would you like to tell us more?
I recently picked up this powerful and provocative book, The girl with the louding voice, by Abi Daré. It is the story of the 14-year-old Adunni, who grows up in a rural village in Nigeria.
Throughout her young life Adunni is confronted by overwhelming challenges, but despite what seems to be insurmountable hurdles in her path, she never loses sight of her one big dream: to get an education and to find her voice. And it is not just any voice that she wants. She wants a "louding voice" so that she can speak up for herself and for other girls like her. Adunni wants to break the cycle where girls born into a life of poverty and no future. She dreams of empowering herself through education, and then empowering others like her, to build a worthy life and future.
Even as Adunni has to struggle through the most harrowing experiences, thanks to her courage and determination to succeed, along with a little help and encouragement from an unexpected friend, she finds her "louding voice".
Why did this book resonate with you?
Adunni's story touched me in ways I never expected it to. My preferred genre is murder and mystery – stories that are unrealistic and even far-fetched. Adunni's story is a realistic one, and it hit a nerve. She managed to pull me into her life and into her being. I laughed with her, got angry alongside her, and cried with her. I felt her pain, her shame, her joy and her triumphs. Adunni came to life and managed to transform herself from a fictional character to a real person, someone who has managed to convince me to be a better educator. I talk to people about Adunni as if she is one of my students and share her inspiring story. I want to be the kind of educator that walks the path with other Adunnis.
Have you perhaps learnt a life lesson from Adunni that you would like to share with us?
Life is not fair, but that this unfairness should not prevent one from dreaming of a better future and working to achieve it; despite undergoing traumatic experiences along the way.
Adunni has also taught me that we should never lose faith in our own abilities, and when no one is cheering for us, we need to cheer for ourselves. Lastly she taught me that a girl child, a woman, can never be stopped once she has set her mind on something. A determined woman is a force to be reckoned with.
Who else would like this book, do you think?
I believe that anyone who is passionate about education and the empowerment of the girl child, and anyone who fiercely challenges the unfairness towards children and women, will love Adunni's story. If you need inspiration and would like to read a story about someone who never gave up, about someone who succeeded in finding her voice, you should meet Adunni and walk her path alongside her.
Tell us about your reading list…
I'll tell you what happened over the December holidays: I reverted to my comfort genre and spent most of my time with a book in my hands. But I did try to add other genres to my reading mix as well, and read both Afrikaans and English, thanks to my amazing book club. And although I haven't been able to read all of them (yet), these were the titles on my holiday list:
Little white lies – Philippa East
The bat – Jo Nesbo
Run away – Harlan Coben
The monk who sold his Ferrari – Robin Sharma
Misverstand – Marita van der Vyver
Split – Debbie Loots
Skuldig – Martin Sten
Die heelal op my tong – Anoeschka von Meck
Buys – Willem Anker