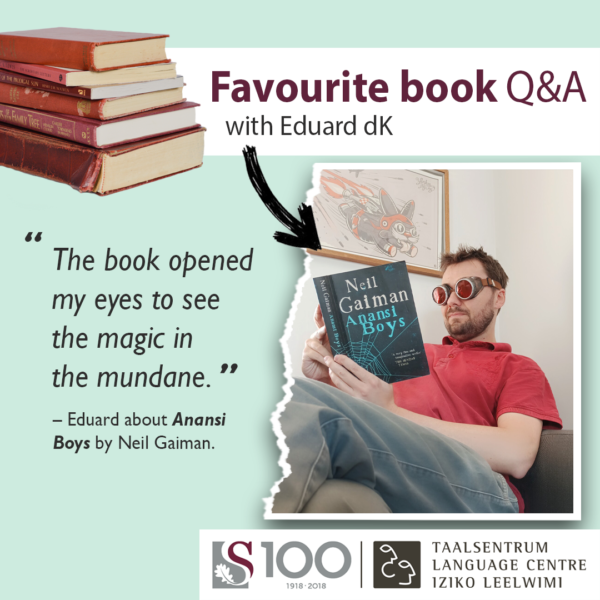 Get to know us through the books we read! This month we chat to Eduard de Kock, a senior interpreter at the Language Centre's Interpreting Service and presenter of the Comms Lab short course Crafting confident presentations.
"I'm a huge fan of the typical nerd culture: Dungeons and Dragons, computer games and the more complicated board games. If I were to win a lot of money today, the first item on my shopping list would be a whole lot of computer parts so that I can build my own machine." At the Interpreting Service, he is also technology coordinator and involved in the portfolio for continuous professional development. In addition, Eduard lectures Science in Context – a module for BSc students in academic literacies and computer skills. Being a voice artist, he also freelances as a radio presenter.
What is the title of your favourite book, or a book that left a deep impression on you, or a book that you found unforgettable for some reason or another?
Two books: Magician by Raymond E Feist, and Anansi Boys by Neil Gaiman.
Why did these books books make such an impression on you?
I discovered Magician early in high school – I actually only bought it because it had an interesting cover! I still remember the day when I opened this book for the first time and read the words, 'The storm had broken', just as it started raining outside. That made me feel obliged to read the whole book, as I have often done since. I eventually had to buy a new copy because the old one had become rather tattered. This book should appeal to readers who like stories such as Lord of the Rings, but as seen from the perspective of two children who grew up in two different worlds – worlds that were at loggerheads with each other.
I will always have a soft spot for Anansi Boys because it was my first exposure to magic realism, where all the old gods and mythical figures still wander the earth. A man realises that he is the son of the spider god Anansi and that he has a brother who has apparently inherited all their father's powers – mainly to do with practical jokes. This book enabled me to see magic in the mundane.
Who are your favourite authors? Also tell us why?
Undoubtedly Neil Gaiman, for the reasons mentioned above. I also enjoy Chuck Palahniuk's storytelling: it's insightful, interesting, and with just enough gallows humour to spark my interest. Chimamanda Ngozi Adichie and Tom Eaton are two authors whose articles and thoughts quite often convince me to look at the other side of the coin.
What are you reading at the moment?
Frank Herbert's Dune (the recent movie convinced me at long last to explore this cornerstone of science fiction) and The Ascent of Rum Doodle by WE Bowman, which I received as a gift and am enjoying tremendously.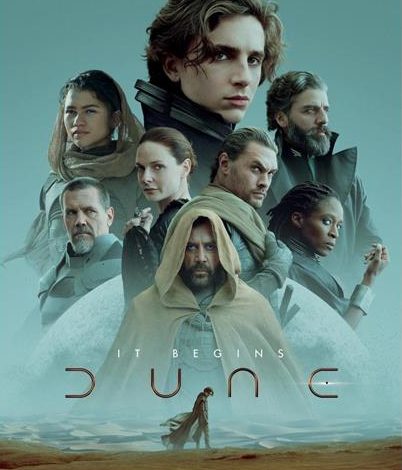 Do you have a preference: reading physical books with paper pages or on a Kindle or other electronic platform? Why do you say so?
Strangely enough I prefer a real book when I go to a restaurant on my own. I feel as if people look at me askance if I sit there with a tablet in front of me; as if they're thinking "Just another person with their eyes glued to a screen." But when I fly long distances or travel by bus, I choose my Kindle every time, because it easily fits into my bags without being damaged. It has also happened that I get my timing wrong and finish a book too soon – then I simply buy a new one and download it immediately!
What book have you re-read? Also tell us why?
Many of them. Magician and Anansi Boys, of course. Another classic is Good Omens, by Neil Gaiman and Terry Pratchett. Sometimes I can't stop thinking about a specific scene from a book without being able to remember the rest of the story, and then I read the whole book again. I'm surprised time and again by how much I can remember – and by how much more I've forgotten!
Who is your favourite literary character?
I think it would either be David Wong – the main character in a series by Jason Pargin (including John Dies at the End and This Book is Full of Spiders: Seriously, Dude, Don't Touch It) – who tries his best to keep his head above water in a world that is determined to drown him, or the literary detective Thursday Next in Jasper Fforde's series The Eyre Affair, Lost in a Good Book and Something Rotten, who works for a task team that polices books and makes sure that the characters behave themselves. 
Have you perhaps learnt a life lesson from a book or character that you would like to share with us? 
I think I learnt the most important lesson from my two favourite characters: Yes, life is tough, crazy and often ridiculous, but that's no excuse for quitting."
What book(s) would you recommend to your friends, students and anyone else?
People who wonder about the far-reaching consequences of governments who simply carry on printing money should read When Money Destroys Nations, where Philip Haslam and Russell Lamberti approach this complex subject in an unusually reader-friendly manner.
Those who feel that they are surrounded by fake news and horror stories about diseases and side effects should read Bad Science by Ben Goldacre. We tend to think there is a simple reason why scientific facts are distorted like this, but Goldacre explains in an elegant manner why the broken telephone game is often played with scientific news.
Those who despair anew each time the South African government is embroiled in yet another scandal should seriously consider reading Is it Me or is it Getting Hot in Here: Great Expectations and Boiling Frogs in South Africa by Tom Eaton. This work made me realise how easy it is to lose sight of the remarkable spirit in our country when we are constantly involved in crisis management.