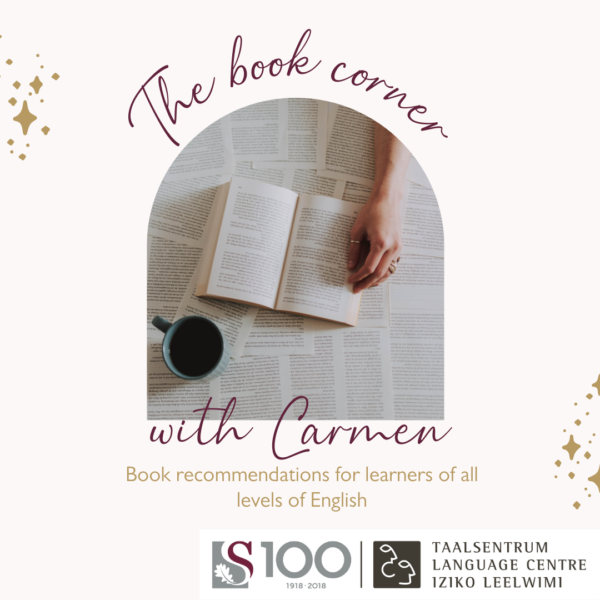 You've been transported to Carmen's book corner!
Hi there, bookworms! I am back with another instalment of my ESL book recommendations. It is the month of love and this month I am giving you three book recommendations that are perfect for Valentine's Day!  
As we all know, reading is the best way to keep your English fit and what better way to train your brain than with some love-themed stories.  
Below are three book recommendations for beginners, intermediate students, and more advanced learners. This list will have something for every type of reader no matter what your level.  
Happy Valentine's Day and happy reading!  
1.The Shepherdess and the Chimney Sweep by Hans Christian Anderson (Upper-Elementary – Pre-Intermediate) 
Fairy tales are the best place to start if you want to improve your English or if you just want to read a little bit more.  
This short story by the fairy tale master himself is the perfect little romance novel, filled with whimsy and an important lesson about the power of love.  
Synopsis 
'The Shepherdess and the Chimney Sweep' is a short story by the Danish author Hans Christian Andersen. It is one of his fairy tale fantasies about household objects, all of which have a moral at the end.  
This story is about a romance between two china figurines, about love, bravery, cowardice and jealousy – and also about never underestimating the pleasure and contentment found in your own home and family.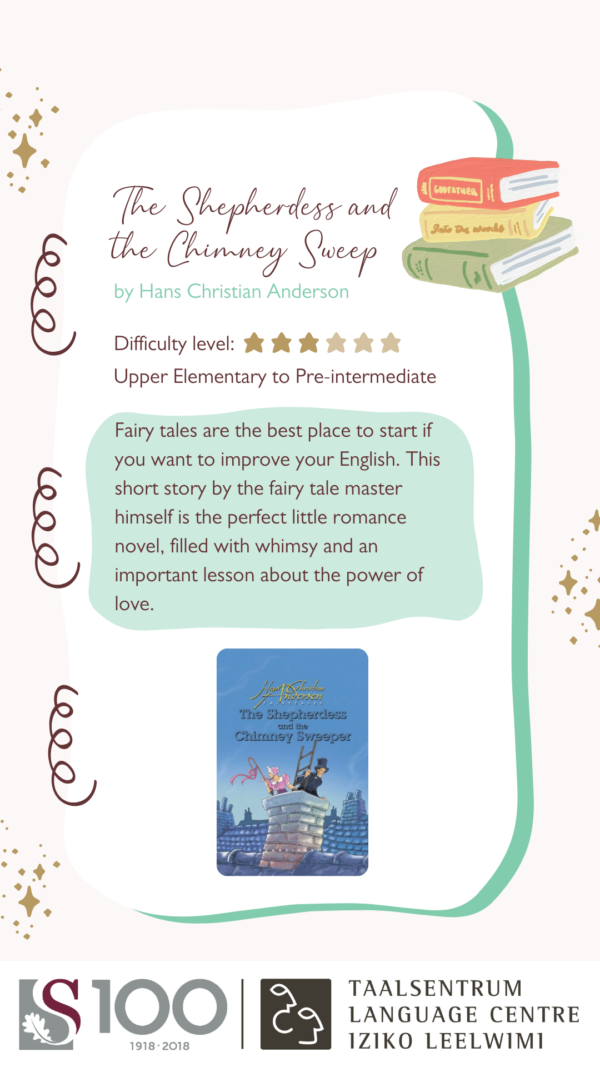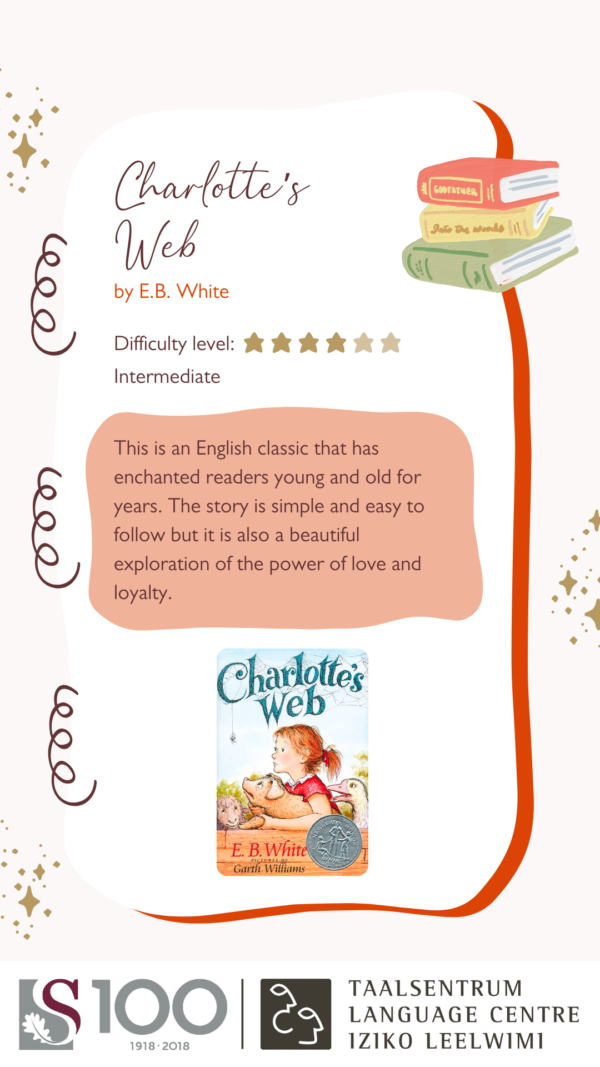 2. Charlotte's Web by EB White (Intermediate)  
Charlotte's Web is an English classic that has enchanted readers young and old for years. Filled with gorgeous illustrations and unforgettable characters, this book is a celebration of the love of friendship. After all, love does not always have to be romantic. The love between friends can be the most powerful.  
The story is simple and easy to follow but it is also a beautiful exploration of the power of love and loyalty. Don't be fooled into thinking this is a silly little book for children; Charlotte's Web has powerful lessons for the youngest to the oldest of readers.  
Synopsis 
A masterpiece of American children's literature, 'Charlotte's Web' is a fable by E.B. White about a runt of a pig named Wilbur, who is loved by a little girl called Fern and befriended by a very clever spider named Charlotte. 
Together, Charlotte and Fern set out to save Wilber from being killed. With humour and heartache, this book will tug at your heartstrings and challenge your English.  
3. Anne of Green Gables by LM Montgomery (Intermediate-Advanced)  
This book is a staple in most readers' bookshelves. With the fierce and feisty character of Anne at the helm, this novel is about her adoption into an unconventional family where the true meaning of love is learned.  
True love does not always have to be romantic, as Anne shows us in this book. Love between friends and family is often the most important (but there is also a sneaky little love story).  
Synopsis 
Matthew Cuthbert and his sister, Marilla, live in Avonlea on Canada's Prince Edward Island. Needing help on their farm, Green Gables, they apply to adopt a boy from an orphanage. By mistake, however, a red-haired, freckle-faced 11-year-old girl named Anne Shirley is sent to the siblings. While Matthew instantly takes to Anne, Marilla is unsure about keeping her. However, the cheerful and highly imaginative Anne gradually transforms the joyless lives of shy Matthew and prim Marilla, and they come to view her as a daughter. 
'Anne of Green Gables' is a sentimental but charming coming-of-age story about a spirited and unconventional orphan girl who finds a home in the most unconventional place.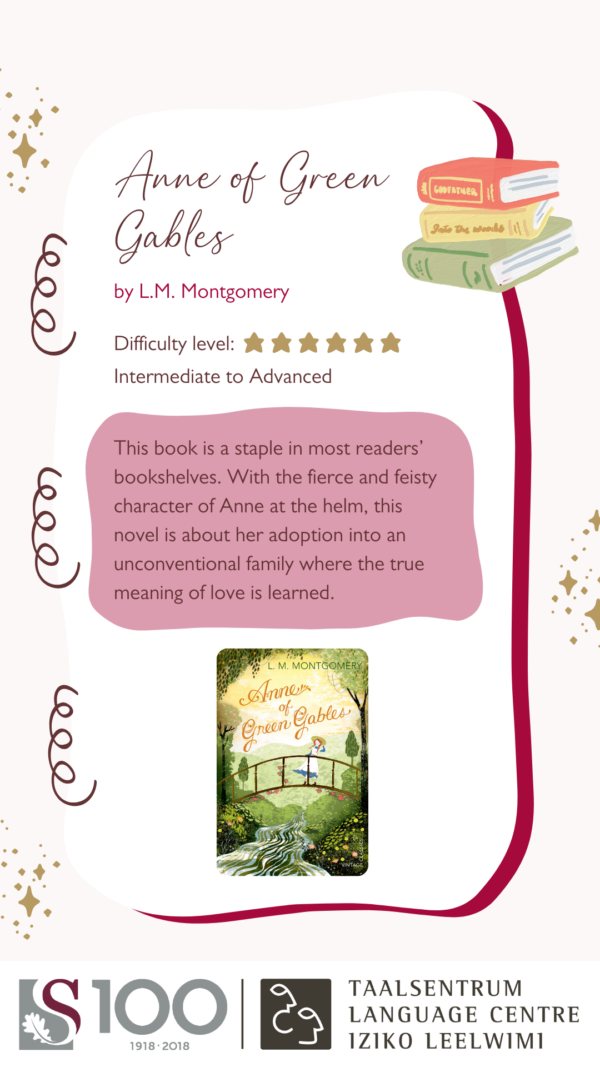 About Carmen
I am an English and linguistics teacher. I live in Stellenbosch with my cat and too many books!
When I grew up, my family and I were very fortunate because we had a lot of books in our home. My brothers and I would often visit the local library in the small town we grew up in and get lost in the wonderful world of books. My love of books grew as I did, and today books are a big part of my life.
I like to read books from all types of genres, but my favourites include mystery novels, historical fiction stories as well as non-fiction like biographies.
My all-time favourite quote is from the author Dr Seuss:
Be who you are and say what you feel because those who mind don't matter and those who matter don't mind. Don't cry because it's over. Smile because it happened."
I am currently doing my master's degree in Linguistics at the University of Stellenbosch. Reading has always been a big part of my life and it is now part of my job; I am a book reviewer for a South African newspaper called The South African.
I first started reviewing books on my book Instagram (@carmens_book_nook) in 2020. In this same year I began writing articles for The South African. Since then, I have written for various other publications. My work has been featured in the local student newspaper Die Matie, and I have also reviewed a book for SARIE magazine.
This post is also available in: English