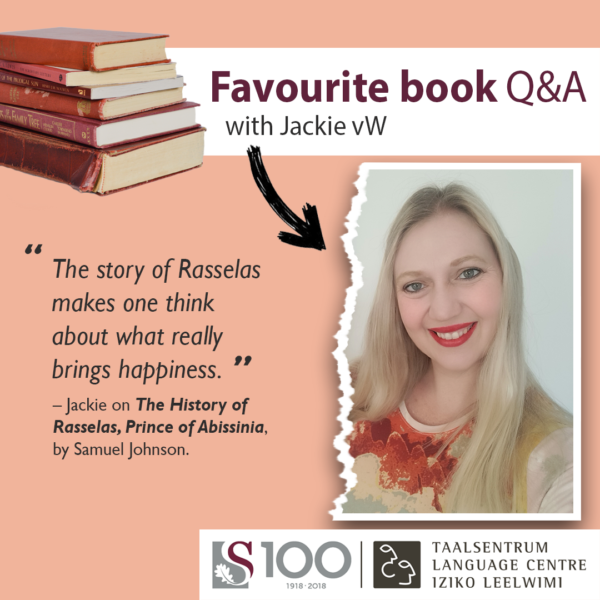 Get to know us through the books we read! This month we chat to Jackie van Wyk, an educational interpreter at the Language Centre's Interpreting Service.
"I studied languages at Stellenbosch University and I have been working as a lecturer and educational interpreter at the Language Centre for the past 15 years. I find it tremendously fulfilling to combine my love for languages, communication and teaching in my role as interpreter. I am also interested in personal development, child psychology, entrepreneurship, parenting and music – I play drums."
What is the title of your favourite book, or a book that had a great impact on you, or a book that is memorable for some reason?
A book that I have never forgotten since having read it for the first time, is The History of Rasselas, Prince of Abissinia, by Samuel Johnson. It was a prescribed book for English Studies in one of my undergraduate years, and I still remember how my two friends and I spent one rainy Saturday studying the book in preparation for the exams. It took us about four hours to take turns reading it out loud to one another, and I remember how the story absorbed me. Today I still sometimes refer to the story of Rasselas – I have even used it in a speech at a wedding!
Why did this book make such an impression on you?
It examines a vital question: Is it possible for a human being to find happiness? It tells the tale of an emperor's son, Rasselas, who is waiting for his turn to ascend the throne. In the meantime, he lives, with his siblings and many other people, in a kingdom named Happy Valley, where everything is perfect. The scenery is beautiful, wealth, entertainment, happiness and peace abound, and no one needs anything. Despite the fact that this paradise should guarantee happiness, Rasselas is unhappy. He reaches the conclusion that it is this very lack of need that troubles him. As he puts it: "I have already enjoyed too much; give me something to desire." He and a small group of followers decide to escape from the valley to experience the wide world at first hand. The idea is to be able subsequently to make an informed decision about where he would be happiest. He also makes it his mission to find out who has managed to find true happiness, and searches for it in everyone he meets. After having travelled for more than a year, Rasselas decides to return home. The end is seen as an anti-climax because they had been so unhappy when they left the valley, and had made so many plans to be happy in future. I nevertheless find the ending meaningful. It addresses the idea that one does not find happiness in a place, people, a career, or actions. Happiness is something you establish within yourself, and it can go with you, regardless of where or with whom you are. In actual fact, the story of Rasselas also raises questions about the whole idea of 'true' or 'complete' happiness in this life.
When all is said in done, life is also a journey: "Distance has the same effect on the mind as on the eye, and while we glide along the stream of time, whatever we leave behind us is always lessening, and that which we approach increasing in magnitude."
Who is/are your favourite author(s)?
I don't have favourite authors, but I enjoy unusual stories where the boundaries between fiction and reality become blurred. I enjoy psychological thrillers, but if I simply wanted to relax, I would never say no to a good old love story.
What are you reading at the moment?
I have two young children and I'm pregnant, so I don't actually have much time for reading in this phase of my life. But I enjoy watching vlogs on YouTube and I follow a few families, including Bonnie Hoellein, Ellie and Jared, and Elle Lindquist.
Do you have a preference: reading physical books with paper pages or on a Kindle or other electronic platform? Why do you say so?
Always real printed books for me, because I already spend so much time in front of a screen.
What book have you re-read?
I have never re-read fiction, but I regularly refer to other non-fiction books such as Groeipyne by Johan van Lill and 5 Tale van die Liefde van Kinders by Gary Chapman and Ross Campbell, and I find it quite valuable to read Ontsluit die Legkaart van die Bybel by Bill Jones on a regular basis.
Who is your favourite literary character?
I don't really remember characters in stories; more what happened and the details of the interactions.
What book/books would you recommend to your students, friends or anyone else? 
The Seven Days of Peter Crumb by Jonny Glynn
Where the Crawdads Sing by Delia Owens
The Holiday by Erica James
Ontsluit die Legkaart van die Bybel by Bill Jones