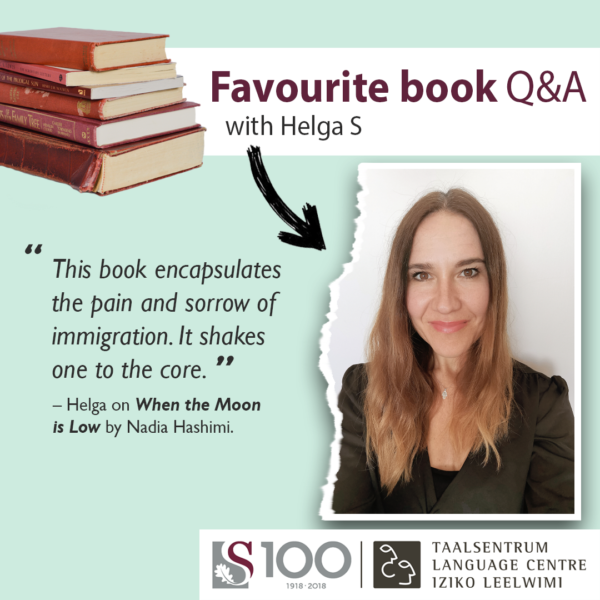 Get to know us through the books we read! This month we chat to Helga Sykstus. Helga manages the Language Centre's Language Learning Hub and is a specialist in the field of language acquisition in Afrikaans. She also presents academic literacies modules.
"I have been sharing my passion for Afrikaans with my students and clients for 22 years, and also my passion for languages and culture in general. I teach Afrikaans at different levels, from beginner to academic level, and I hope not only to empower people through language, but also to forge links between them."
What is the title of your favourite book, or a book that left a deep impression on you, or a book that you found unforgettable for some reason or another?
When the Moon is Low by Nadia Hashimi.
Why did this book make such an impression on you?
I'm deeply interested in the stories of Afghan women because their situation is so completely different from my own reality, and I'm particularly inspired by their admirable inner strength, despite their complex and difficult circumstances. In addition, these stories are not merely fictional stories; they are the reality for so many women and children in in Afghanistan.
It is the story of a woman, Fereiba, who has to flee from Kabul with her three children because of persecution by the Taliban. She decides to go to family in London and embarks on a perilous journey through Iran, Turkey and Greece with her three children. However, her eldest son, Saleem, is arrested in Athens and separated from the rest of the family.
This book made me look with new eyes at, especially, the pain and sorrow that go hand in hand with immigration. This story about refugees and migrants who struggle to escape from misery and untimely death encapsulates the reality of what it means to be an immigrant. The author portrays it in a manner that makes a deep impression on the reader and tugs at one's heartstrings. I often had to put the book aside for a few days because I found it too difficult to continue reading. The story shakes one to the core.
Who is (are) your favourite author(s)? Also tell us why?
Gabriel Garcia Marquez and Isabel Allende because I love their subtle use of magical realism, and Khalid Hosseini for his deep and rich portrayal of Afghanistan.
What are you reading at the moment?
I'm reading Inspire: Life Lessons from the Wilderness by Ben Fogle.
A few years ago, I fell in love with Ben Fogle's programme, Where the wild men are, about people who have chosen to exchange life in a society for an isolated life in nature. The search for a calmer, less complicated life has always stirred my imagination, and was the reason why I decided to buy this book. Fogle shares his own life lessons as well as those of other people who live closer to nature. He wrote the following message in my book: "Dear Helga. Don't stop dreaming and take the leap."
Do you have a preference: reading physical books with paper pages or on a Kindle or other electronic platform? Why do you say so?Definitely 'real' printed books. I want to hold a book, smell its pages, and place it on my bookshelf so that I will always be reminded of the wonderful stories I have read.
What book have you re-read? Also tell us why?
I don't read books twice – there are too many books to read!
Who is your favourite literary character?
I don't have a favourite literary character.
Have you perhaps learnt a life lesson from a book or character that you would like to share with us?
Most books that make an impression on me are about people's inner strength and resilience, love for others, and a love for culture and nature.
The lesson I learn from this is to be aware of the small things that happen around me every day and to take them all in properly."
What book or books would you recommend to your friends, students or anyone else?
The House of Spirits – Isabel Allende
Love in the Time of Cholera – Gabriel Garcia Marques
The Good Daughter – Jasmin Darznik
Salt Houses – Hala Alyan
A Thousand Splendid Suns – Khalid Hosseini
A Walk Across the Sun – Corban Addison