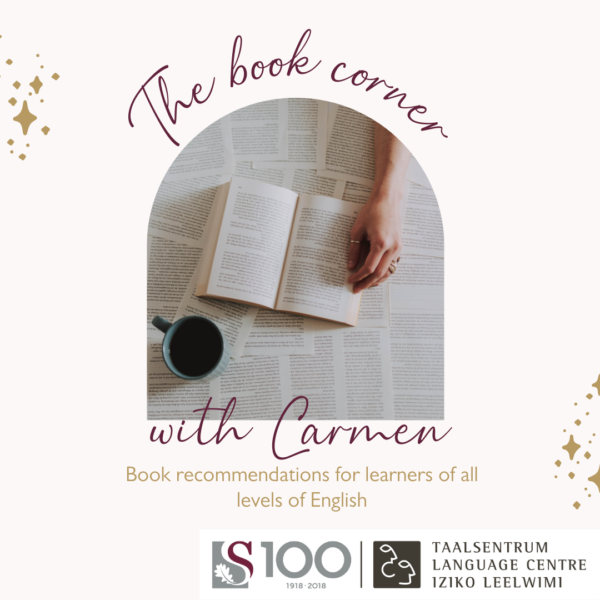 You've been transported to Carmen's book corner!
Hi there, bookworms! I am back with another instalment of my ESL book recommendations. The summer holidays are coming up and this time around, I am giving you some book ideas that are perfect for the beach. It is easy to fall into the holiday trap and forget all things English as you rest after the long year we have had and prepare for the year ahead. That is why it is so important to read some English during the holidays to keep your English muscles fit.
Below are three book recommendations for beginners, intermediate students, and more advanced learners. This list will have something for every type of reader and student.
Happy holidays and happy reading!
1. The Nightmare Before Christmas by Tim Burton (Elementary – Pre-Intermediate 
This is a great book for learners who – like me – love Christmas. The story is exciting, and the writing is whimsical but easy to follow. This book will help students to get in a festive mood and learners of all ages will enjoy this lovely book.
Synopsis
Meet Jack Skellington. He's in charge of making Halloweenland the coolest creepy place around. But when Jack suddenly grows bored with tricks and treats, he goes searching for new ways to celebrate … and he finds them in Christmas Town!
Christmas, Jack decides, is just what Halloweenland – and the world – needs! He sets out to take over the role of Santa. But can anything good come of a tall and lanky skeleton dressed up as everyone's favourite jolly old elf? You will have to read and fine out …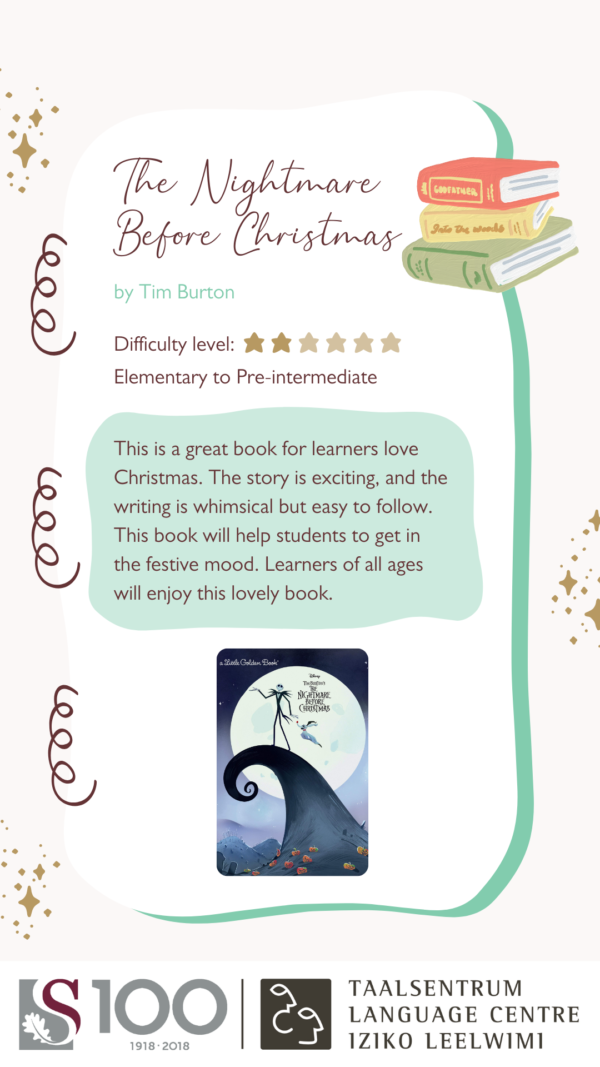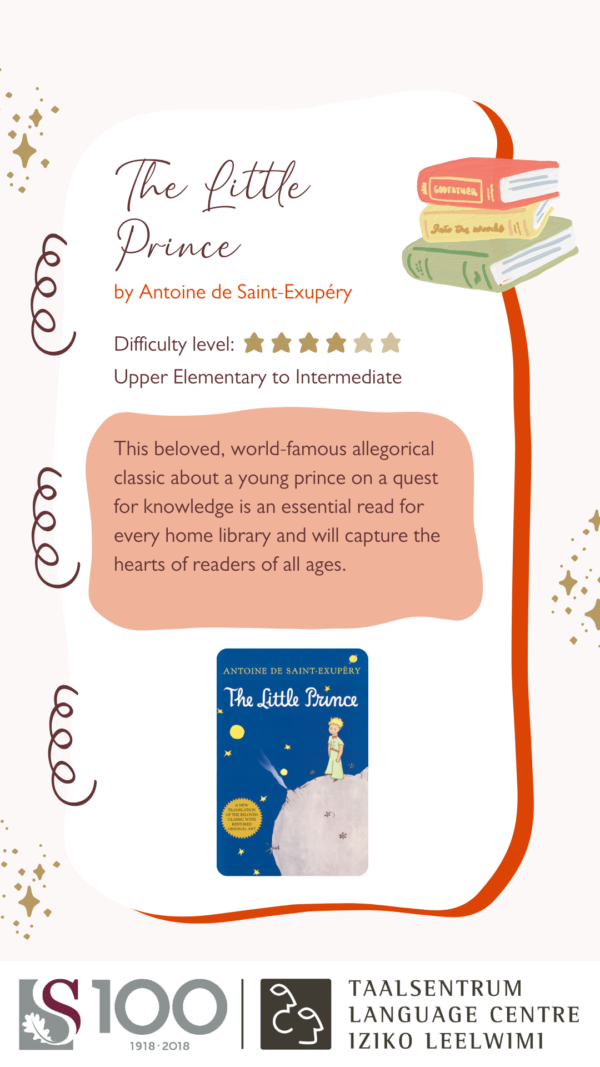 2. The Little Prince by Antoine de Saint-Exupéry (Upper Elementary to Intermediate) 
The Little Prince is an English classic (even though it was originally written in French) and it has been a cult favourite for years. Filled with beautiful writing and gorgeous illustrations too, this book is perfect to pack for holiday.
This beloved, world-famous allegorical classic about a young prince on a quest for knowledge is an essential read for every home library.
This amazing little book will capture the hearts of readers of all ages. Few stories are as widely read and as universally cherished by children and adults alike as The Little Prince.
Synopsis
When a pilot crashes in the Sahara Desert, he meets a little boy who asks him to draw a sheep. Gradually the Little Prince reveals more about himself: He comes from a small asteroid, where he lived alone until a rose grew there.
But the rose grew demanding, and he was confused by his feelings for her. The story unfolds further from one planet to the next in a beautiful adventure of love.
3. The Wonderful Wizard of Oz by L. Frank Baum (Intermediate-Advanced)
This is a beautiful story with simple writing that will engage and challenge students who have some experience in English. The story is filled with unforgettable characters, a thrilling adventure and some valuable life lessons.
Synopsis
Come along, Toto, she said. We will go to the Emerald City and ask the Great Oz how to get back to Kansas again.
Swept away from her home in Kansas by a tornado, Dorothy and her dog Toto find themselves stranded in the fantastical Land of Oz. As instructed by the Good Witch of the North and the Munchkins, Dorothy sets off on the yellow brick road to try and find her way to the Emerald City and the Wizard of Oz, who can help her get home.
With her companions the Scarecrow, the Tin Woodman and the Cowardly Lion, Dorothy experiences an adventure full of friendship, magic and danger. A much-loved children's classic, The Wizard of Oz continues to delight readers young and old with its enchanting tale of witches, flying monkeys and silver shoes.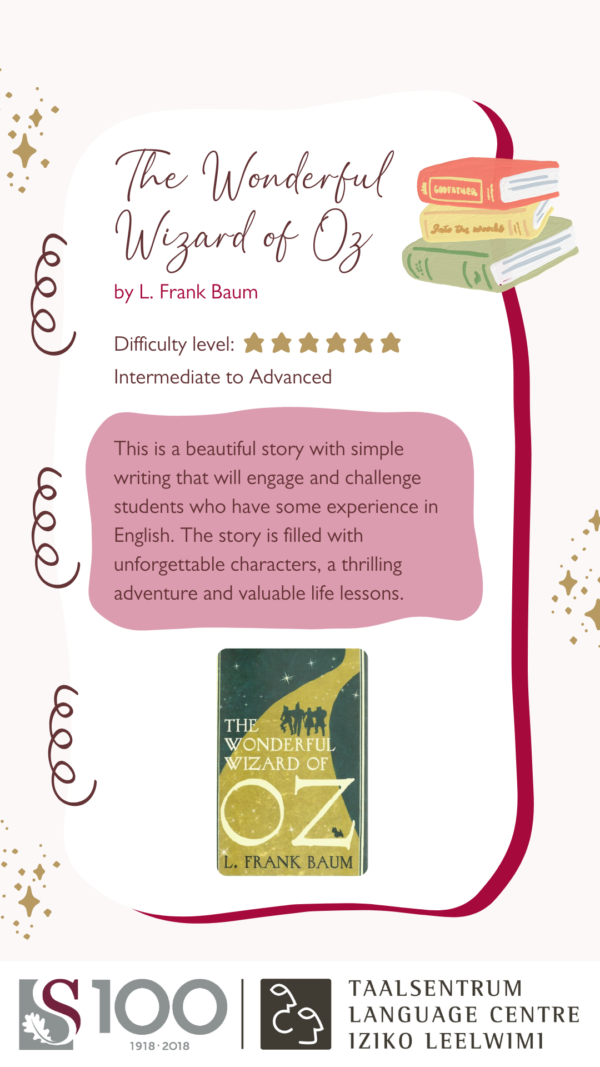 About Carmen
I am an English and linguistics teacher. I live in Stellenbosch with my cat and too many books!
When I grew up, my family and I were very fortunate because we had a lot of books in our home. My brothers and I would often visit the local library in the small town we grew up in and get lost in the wonderful world of books. My love of books grew as I did, and today books are a big part of my life.
I like to read books from all types of genres, but my favourites include mystery novels, historical fiction stories as well as non-fiction like biographies.
My all-time favourite quote is from the author Dr Seuss:
Be who you are and say what you feel because those who mind don't matter and those who matter don't mind. Don't cry because it's over. Smile because it happened."
I am currently doing my master's degree in Linguistics at the University of Stellenbosch. Reading has always been a big part of my life and it is now part of my job; I am a book reviewer for a South African newspaper called The South African.
I first started reviewing books on my book Instagram (@carmens_book_nook) in 2020. In this same year I began writing articles for The South African. Since then, I have written for various other publications. My work has been featured in the local student newspaper Die Matie, and I have also reviewed a book for SARIE magazine.
This post is also available in: English