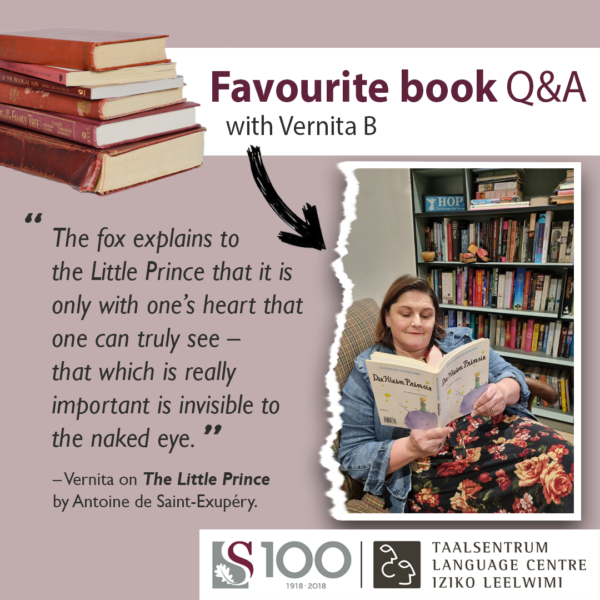 Get to know us through the books we read! This month we chat to Vernita Beukes, a lecturer and coordinator of language acquisition courses at the Language Centre. She says: "I honestly have the best job in the world! As part of my job, I get the opportunity to teach international students from everywhere in the world Afrikaans. There's a lot of truth in the saying that if one does something you are passionate about, you won't need to work a single day in your life! I'm also involved in the reading project of the Vriende van Afrikaans. Here I get the opportunity to read children's books to pre-school children! How lucky am I?"
Vernita loves her  husband, her dog, family and friends, and reading and travelling are at the top of the list of things she likes doing. "But I absolutely detest tomatoes," she confesses.
What is the title of your favourite book, or a book that left a deep impression on you, or a book that you found unforgettable for some reason or another?
Reading has always been part of my life. My mother read to us every day. I also had wonderful teachers from Sub A (Grade one) onwards, who encouraged my love for books and reading. When I was a student teacher, Dr Anker read The Little Prince by Antoine de Saint-Exupéry to us. Over and above his beautiful voice, the truths in that book also made an indelible impression on me.
Why did this book make such an impression on you?
The section on page 72 (in my copy of the book) became my own philosophy of life. That is where the fox explains to the Little Prince that it is only with one's heart that one can truly see. That which is really important cannot be seen with one's eyes.
I try hard to look at and listen to people with my heart."
Who is (are) your favourite author(s)? Also tell us why?
I have many favourite authors, because I feel that different authors appeal more to one in different stages of your life. Jojo Moyes has touched me to the point of ugly crying, and John Grisham, Clive Cussler and Sofia Segovia has made me disappear into their worlds.
What are you reading at the moment?
I'm reading two books: The Help by Kathryn Stockett, and The Murmur of Bees by Sofia Segovia.
Do you have a preference: reading physical books with paper pages or on a Kindle or other electronic platform? Why do you say so?
Nothing, but nothing at all, can beat the smell of a new book!
What book have you reread? Also tell us why?
The Little Prince, among others, because it is my favourite book and the truths it contains have a fresh impact on me every time I read it.
Who is your favourite literary character?
Claire Randall in the Outlander series. I think living in Scotland could work for me too!
What book or books would you recommend to your students, friends or anyone else?
The Giver of Stars by Jojo Moyes
Evening Class by Maeve Binchy
Sophie's World by Jostein Gaarder