Get to know us through the books we read! This month we chat to Fatima Halday. Fatima is the Head of Communication at the Language Centre and manages the English and Comms Lab portfolios.
"I'm passionate about teaching and learning and I just love working with people. I'm a lifelong learner myself and I pursue knowledge and skills for personal and professional development." When she finds the opportunity to read for leisure, she opts for books about psychology, human behaviour (the good and not so good kind), relationships, and "the interconnectedness of individuals and societies as it offers unique perspectives on how we can make sense of ourselves, others, and life".
What is the title of your favourite book, or a book that had a great impact on you, or a book that is memorable for some reason?
The Forty Rules of Love, written by Elif Shafak.
Why did this book make such an impression on you?
This book is told through the parallel stories of Rumi, the legendary 13th-century poet, and Ella Rubenstein, a woman in her forties who feels lost and unfulfilled. She starts working as a reader for a literary agency and comes across a manuscript that changes her life. The manuscript is about the famous Sufi poet Rumi and his relationship with his mentor, Shams Tabrizi.
Through Rumi's story, we learn about the forty rules of love. Each chapter is built around one of the rules of love from Rumi's poetry. These 40 rules work as the book's moral compass, showing the characters (and us) what one should be guided by in life. The book has well-defined characters with unique perspectives and deep emotions.
These rules are beautifully woven into the narrative and offer profound wisdom about love, life and spirituality. One of the most compelling characters in the book is Shams Tabrizi, who transforms Rumi from a reserved scholar into a passionate poet. Shams is a controversial figure who challenges the traditional norms of religion, society and morality. He teaches Rumi the true meaning of love, which goes beyond physical attraction or emotional attachment.
In Ella's story, we see a modern-day woman who has a comfortable life, a husband and children, but who feels something is missing. Her journey starts with the reading of the manuscript and continues with her interactions with Aziz Zahara, a Sufi dervish who helps her understand the rules of love. Through her journey, Ella learns to confront her fears, embrace her true self, and take charge of her life.
The Forty Rules of Love is philosophical and explores the nature of love, faith, and human existence. With every chapter, Rumi shares poignant lessons on love, friendship, spirituality, and more. These rules not only apply to the characters in the story, but also extend to the reader's life. Each lesson adds depth to the story and helps readers connect with and analyse their personal life philosophy. It challenges our preconceptions and encourages us to seek our own truth. It is a book that can be read multiple times, each time revealing a new layer of meaning.
Who is (are) your favourite author(s)? Also tell us why?
I used to read a lot of fiction and my favourite authors are John Grisham, Dan Brown and Karin Slaughter, because I enjoy thrillers. For the past few years, however, I have mostly been reading non-fiction books. The most recent ones are from the School of Life series of books. A lot of the non-fiction I read is based on psychology, philosophy, culture, people and life, which are all topics that interest me. I like learning about new concepts and perspectives.
What are you reading at the moment?
I am currently reading The Daily Stoic by Ryan Holiday.
Do you have a preference: reading physical books with paper pages or on a Kindle or other electronic platform? Why do you say so?
I prefer reading physical books, but have recently started reading books from the Kindle app on my phone. Some books that I purchased from Amazon took a very long time to arrive, so if it is a book that is not available in South Africa, I prefer buying the Kindle e-book version. Forty Rules of Love was one of the first e-books I read on my phone, and I found it convenient because the chapters are quite short, so I was able to read a few pages or chapters whenever I had a free moment. I am also currently reading The Daily Stoic on my Kindle app.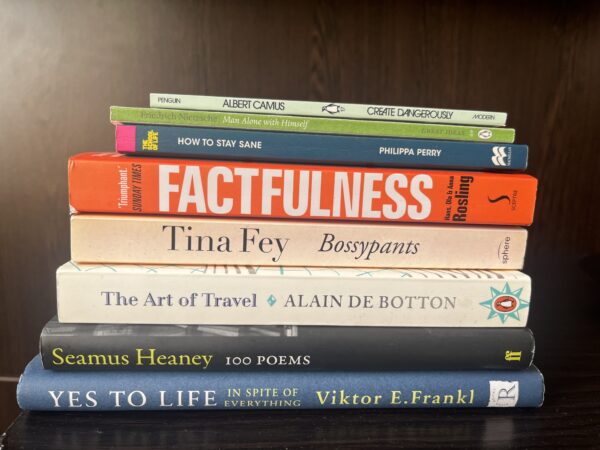 Books at Fatima's bedside
What book have you re-read? Also tell us why?
The Alchemist by Paulo Coelho. It is beautifully written and entertaining, but it also teaches us important lessons about life. It teaches us that the universe conspires to help people achieve their dreams, but they must be willing to take risks and make sacrifices to achieve their goals. It also emphasises how important it is to follow one's own path in life and not to be deterred by obstacles and setbacks. One of the main themes of the book is pursuing your passion and exploring your true calling in life, no matter how difficult the journey may be. The book has many profound messages about finding courage, positive thinking, overcoming challenges, and pursuing one's dreams. It is a good read if one needs inspiration and motivation.
Who is your favourite literary character?
I have two. Heidi, and Jo March from Little Women.
Have you perhaps learnt a life lesson from a book or character that you would like to share with us (if this hasn't come up in one of your answers already)?
I'd like to share a few quotes that mean a lot to me:
East, West, South or North makes little difference. No matter what your destination, just be sure to make every journey, a journey within. If you travel within, you'll travel the whole wide world and beyond."
           – The Forty Rules of Love by Elif Shafak
Fret not where the road will take you. Instead concentrate on the first step. That is the hardest part and that is what you are responsible for. Once you take that step let everything do what it naturally does and the rest will follow. Don't go with the flow. Be the flow."
           – The Forty Rules of Love by Elif Shafak
I was assailed by memories of a life that wasn't mine anymore, but one in which I'd found the simplest and most lasting joys."
           – The Stranger by Albert Camus