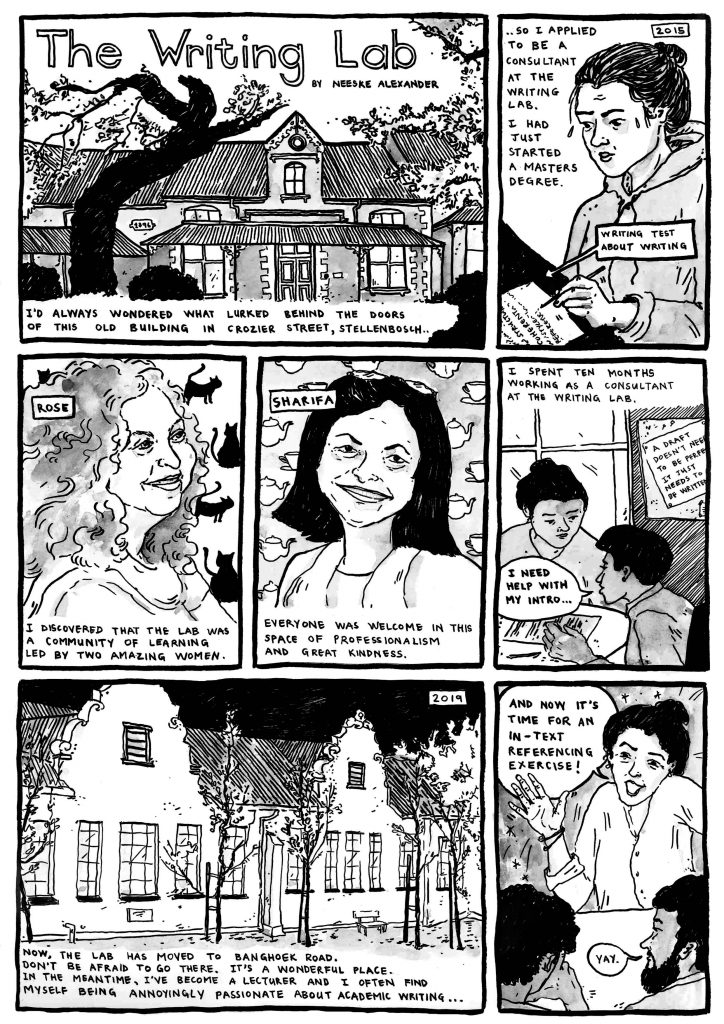 Sharifa Daniels, one of the founding staff members of the Writing Lab of the Language Centre, retired in 2018, after nearly 17 years of service to the writers on campus. We decided to honour her with a special issue of Stellenbosch Papers in Linguistics Plus (SPiL Plus), an accredited open-access journal. The issue is called 'Space, place, and power in South African writing centres', since space, place and power are concerns close to Sharifa's heart, as we explain in our introduction to the issue.
Sharifa often discussed these issues with us when we considered the role of the Writing Lab on campus. Coming from a background that was part of the anti-apartheid struggle, Sharifa saw that it was one thing to admit 'non-traditional' students, but quite another matter to help the students to feel part of campus. Before working at the Writing Lab, Sharifa had a long career in secondary education at disadvantaged schools. Here and elsewhere, she witnessed first-hand what happened to people's lives and educations under apartheid. She also won a scholarship to the University of Iowa where she became interested in writing centres and their social justice possibilities. These are the ideas she brought home and later was able to use at Stellenbosch.
The special issue is the first special issue in the world about South African writing centres. The themes of space, place and power have long been significant in international writing centre work, but have a particular significance in South Africa where our political past and present revolves around how space and place allow power relationships to play out. Writing centres exist to help student writers develop their academic writing identities, but they do this within institutional structures that affect how and why they work.
The special issue has 12 articles and represents seven South African writing centres. It also has seven research notes, written by former Stellenbosch writing consultants whom Sharifa trained. The volume ends with a comic by a former writing consultant who is an artist. She describes the Writing Lab as a community of learning, where everyone was welcome. If you would like to know more about this friendly space, please e-mail or phone Anne-Mari Lackay at 021 808 2928.
The special issue was published as Volume 57(2019) of the accredited journal Stellenbosch Papers in Linguistics Plus (SPiL Plus).
Writing Lab comic by Neeske Alexander, an artist and former writing consultant.