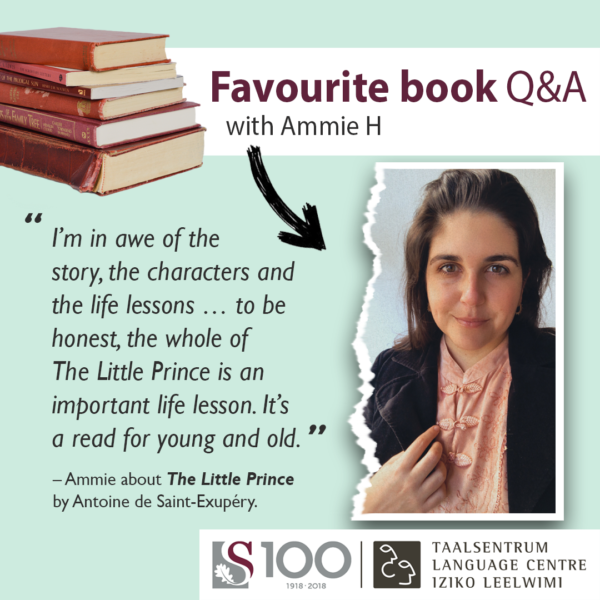 Get to know us through the books we read! Get to know us through the books we read! This month we chat to Ammie Henson, one of the coordinators of the Intensive English portfolio and an English second language (ESL) instructor.
"My journey to become a teacher has taken me down very interesting, and sometimes difficult, roads – but I believe it shaped me into the teacher I am today. I started off as a psychology student at Stellenbosch University and somehow ended up studying journalism as a postgraduate at Rhodes University after a gap year in the United States. I also went to Finland on an exchange programme for my master's degree in media studies; the most valuable experience of my life."
"I have always loved children and have known in my heart that I am meant to be a teacher – but I didn't listen way back when! Somehow, I always ended up back in childcare: from working as an au pair to being a primary school class assistant. I eventually decided to do my TEFL certificate at the Stellenbosch University Language Centre and applied to work at the Language Centre while I complete my BEd (Foundation Phase) at North-West University (finally!). Teaching is my passion. ​
I love teaching because I want to instil a sense of self-worth in my students – I want them to be proud of who they are and of their accomplishments. There is nothing more satisfying than when students realise what their potential is and utilise it. I also love inspiring my students – and to be inspired by them!​ Other than being a teacher, I am also a Libra who loves beautiful things and organising events and parties. I am a dog mom to two rescues, one of whom came all the way from Grahamstown! I like spending time outdoors and prefer working out in nature – I love hiking and swimming. In my free time I play Dungeons & Dragons and spend time with my friends and family. I'm not much of a bookworm, but I do love a good story."
What is the title of your favourite book, or a book that had a great impact on you, or a book that is memorable for some reason?
The Little Prince by Antoine de Saint-Exupéry
Why did this book make such an impression on you?
This book and I have a long history, and it reminds me of someone very dear to me. I remember reading this book for the first time in Afrikaans when I was really young – probably in my early primary school days. I don't think I was emotionally and cognitively ready to grasp the real meaning of this book at that age. I didn't like the book and found it scary. I didn't finish it back then. As I got older, I became aware of its hype and popularity. In 2015 the trailer for the film was released. I have a deep appreciation for beautiful animation, and I was immediately in love. I saw the film with my best friend in December that year, a few weeks before my trip to Finland, and knew I had to read the book. I was in awe of the story, the characters and the life lessons (also, the animation was fantastic). I came home after the film and told my stepdad, Nic, all about it. The next day I was colouring in at my desk when he placed the book next to me. Inside he wrote (translated from Afrikaans): "If the sun doesn't shine enough over there, know that we are proud of you". He signed it with the letters KTLO, which stand for "Kick the lights out!" – the saying with which he always encouraged my sister and myself. He was our biggest supporter supporter.
I read the book on my flight to Helsinki and finished reading it while queuing for the soundcheck of the 5 Seconds of Summer Sounds Live Feels Live concert. Last year I read my favourite excerpt at his funeral.
So the little prince tamed the fox. And when the hour of his departure drew near –

"Ah," said the fox, "I shall cry."

"It's your own fault," said the little prince. "I never wished you any sort of harm; but you wanted me to tame you …"

"Yes, that is so," said the fox.

"But now you're going to cry!" said the little prince.

"Yes, that is so," said the fox.

"Then it has done you no good at all!"

"It has done me good," said the fox, "because of the colour of the wheat fields."
Who is (are) your favourite author(s)? Also tell us why?
I don't really have a favourite author. I have preferred genres: fantasy, adventure, mystery, romance, drama, historical fiction and comics. And preferred characters: strong, fully formed female characters with a voice!
Books normally find me, not the other way around, so it doesn't matter who a book is written by, as long as the story it tells is compelling.
What are you reading at the moment?
The Practical Magic series by Alice Hoffman.
Do you have a preference: reading physical books with paper pages or on a Kindle or other electronic platform? Why do you say so?
Definitely physical books with paper pages. It is a love story in itself.
What book have you re-read? Also tell us why?
I have reread some of the Harry Potter books because I read them when I was really young. But there's nothing like reading a book for the very first time. It is never the same once that spell has been broken.
Who is your favourite literary character?
The fox from The Little Prince (especially when he is voiced by James Franco).
Have you perhaps learnt a life lesson from a book or character that you would like to share with us (if this hasn't come up in one of your answers already)?
To be honest, the whole of The Little Prince is an important life lesson. But this quote by the fox stood out to me the most:
And now here is my secret, a very simple secret: It is only with the heart that one can see rightly; what is essential is invisible to the eye."
What book/books would you recommend to your friends, students or anyone else?
The Little Prince is a must read for young and old.